1991 BMW 850i
page 8
Transmission Valve Body rebuild
A lucky find on Cragslist!
Power steering pump rebuild
My transmission decided to stick in first gear (when in D) for some reason but I could still manually select all the gears without issue. It did this a few months ago but cleared up by itself. So I decided to drop the valve body to see what I can find.
This is the model number (4HP-24), part number (1043 030045) and s/n (0101152) of my transmission.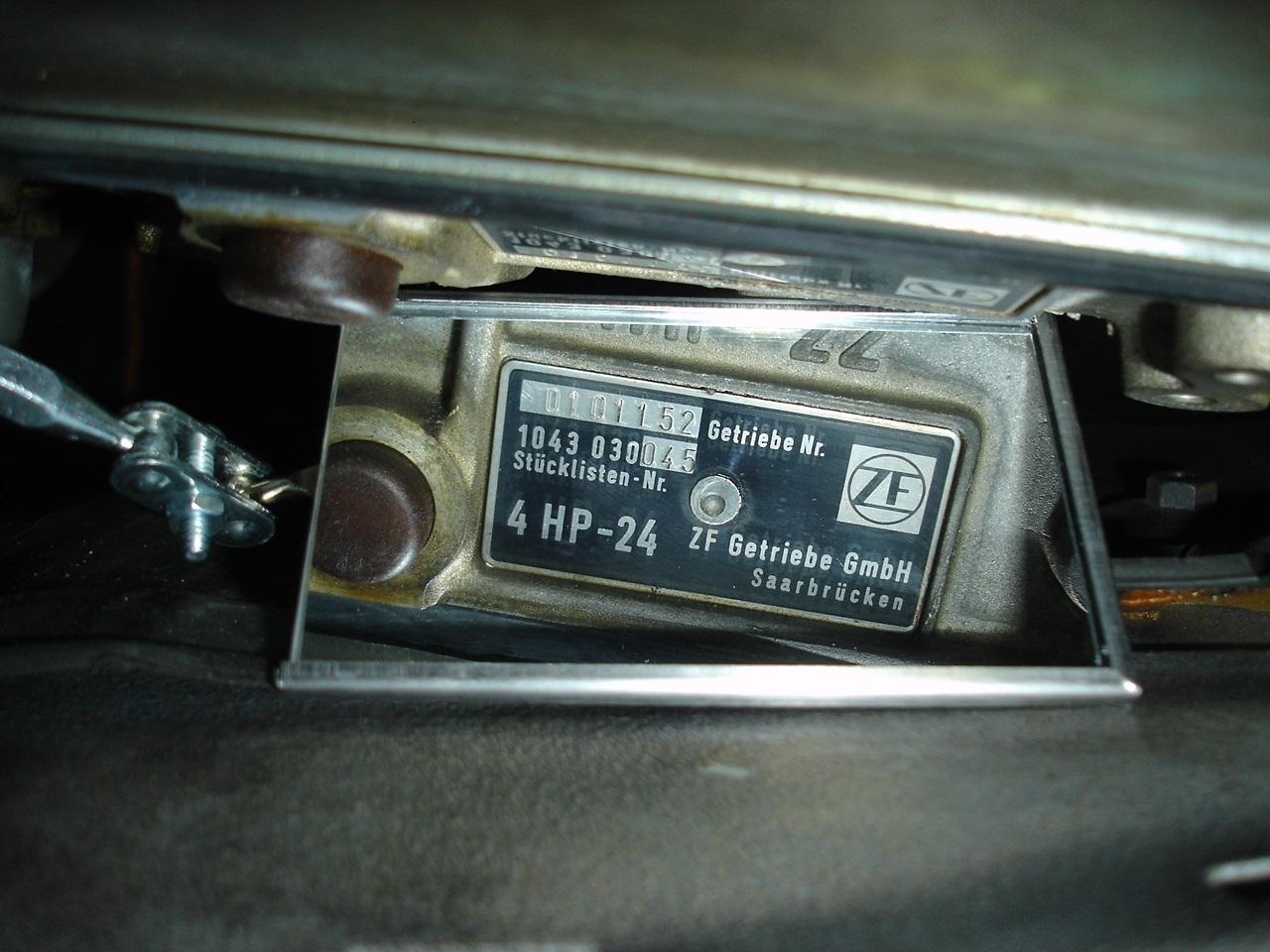 Here is an excellent DIY for removing and rebuilding the 4HP24 valve body http://twrite.org/shogunnew/files/jason/4HP22EH_ValveBody/4HP22EH-Valvebody.html
The valve body has screws of different lengths so i stored them in a piece of foam as you can see below.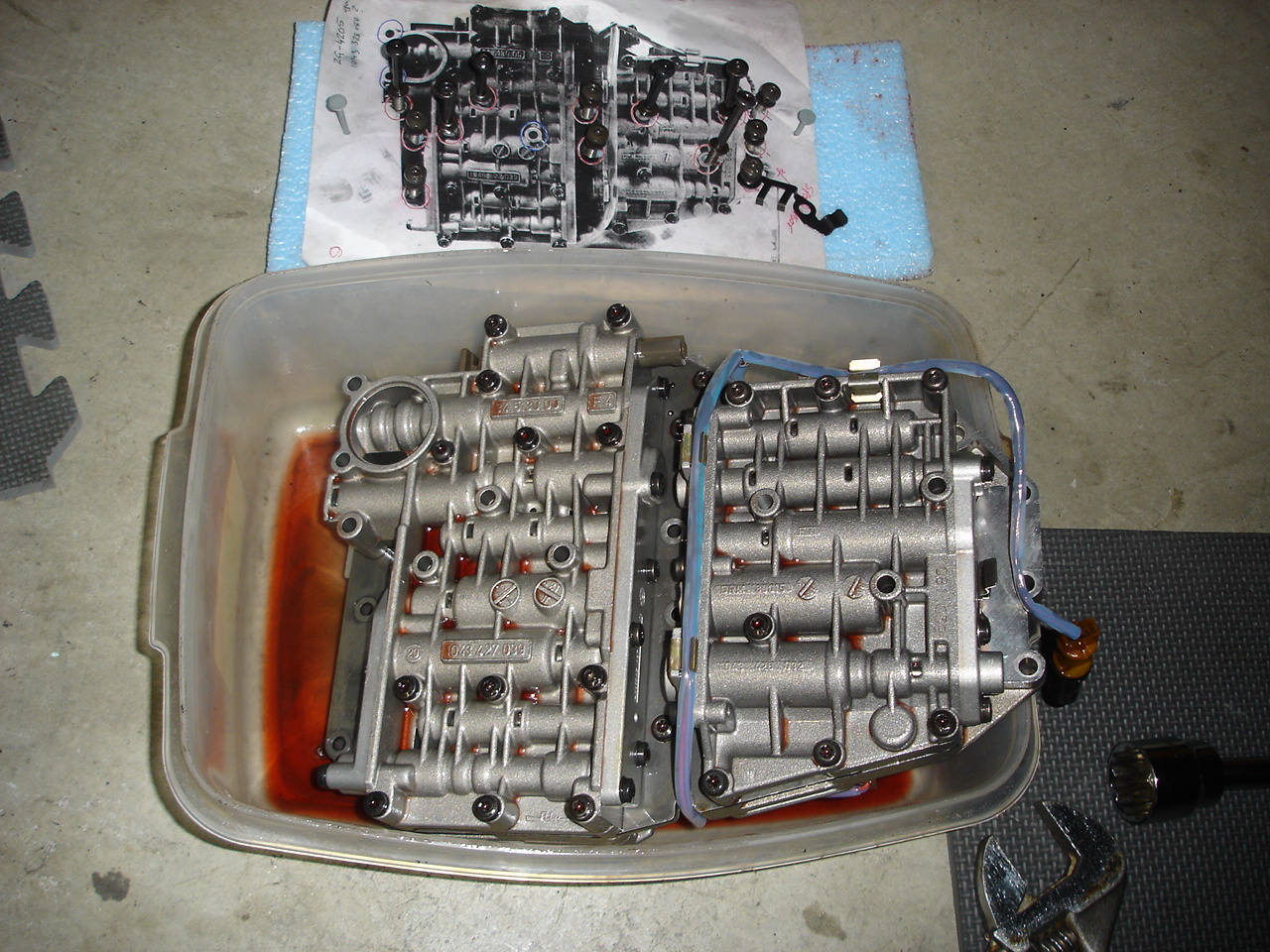 There are 4 x solenoids on this model transmission (4HP-24 EH).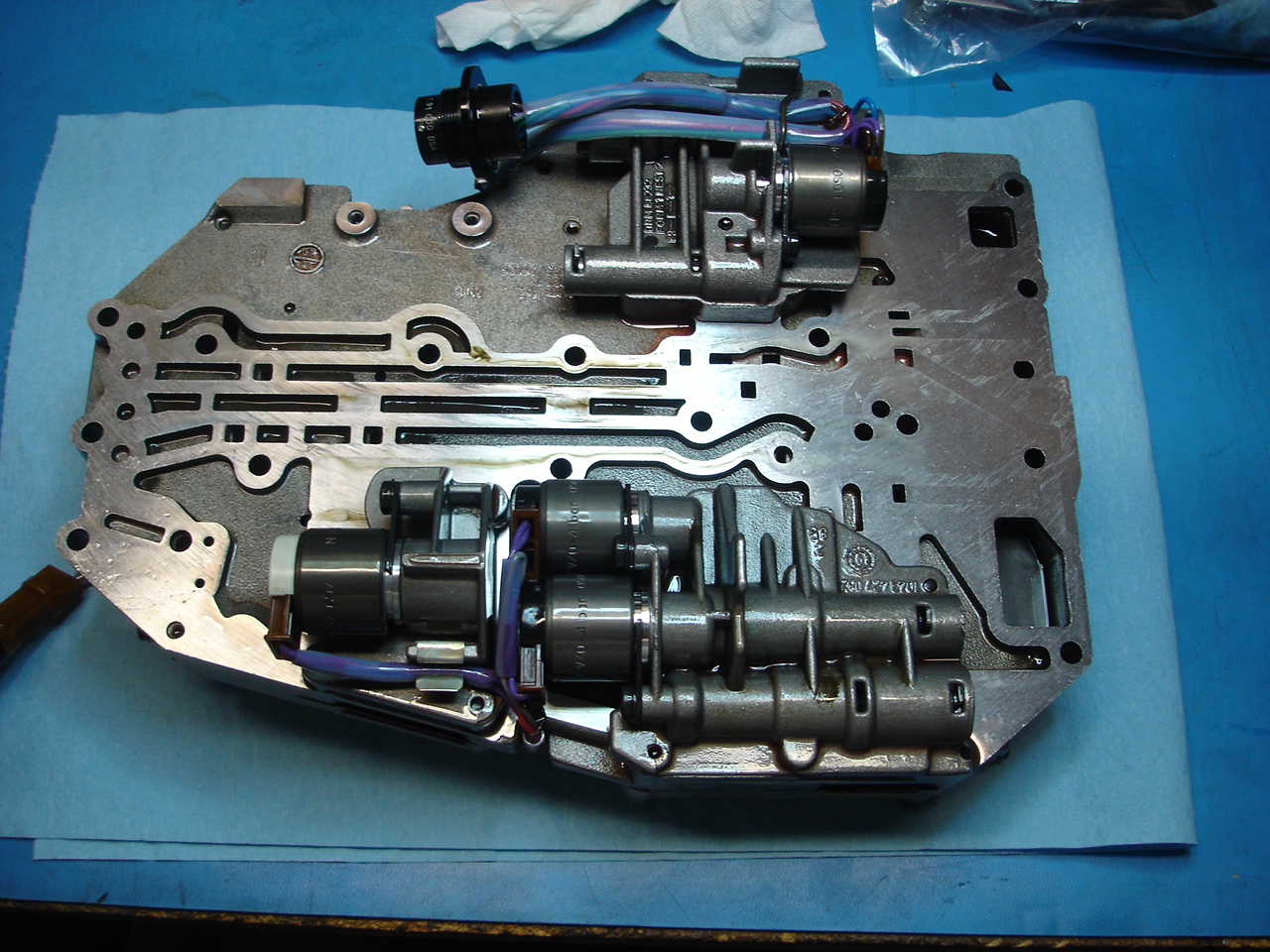 The connector shell on this solenoid (MV-5) has broken but the contact and wire look to be fine.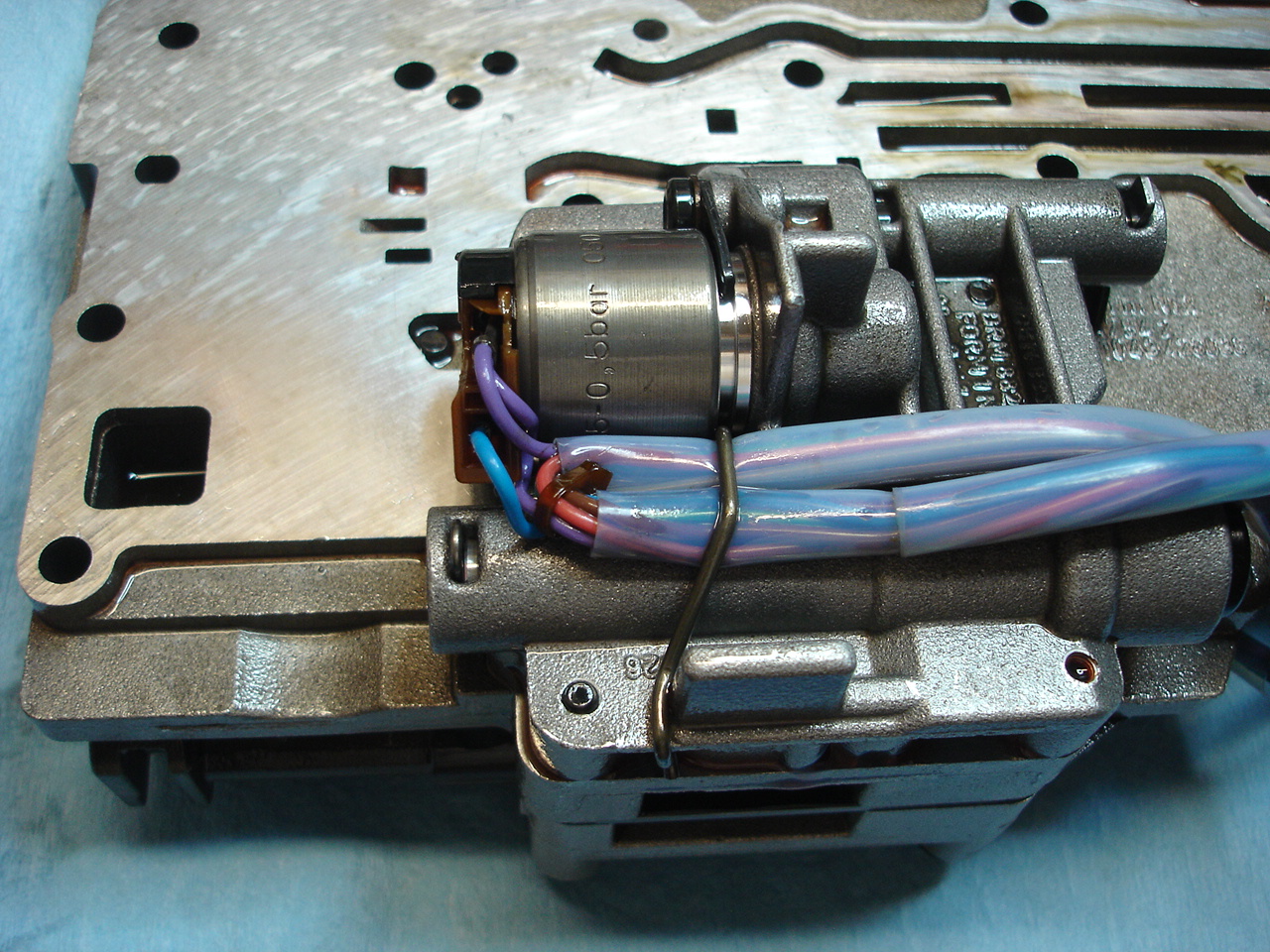 This is the output speed sensor.... which I believe to be the source of my transmission not shifting out of 1st. It looks ok but when checked with a DVM I found it to be open circuit (should measure about 265 ohms)! This makes perfect sense... the transmission does not sense the output shaft is moving so it assumes the car is not moving and does not need to change up to 2nd gear. I guess the transmission control unit (TCU) does not monitor the speed sensor in the rear differential.
If you are dismantling everything as I am be sure to note that plastic screw #78 is an adjustment (transmission line pressure). Measure its protrusion before removing it so you can return to same setting. I only noticed this after dismantling but my pics were clear enough to set it back where it was.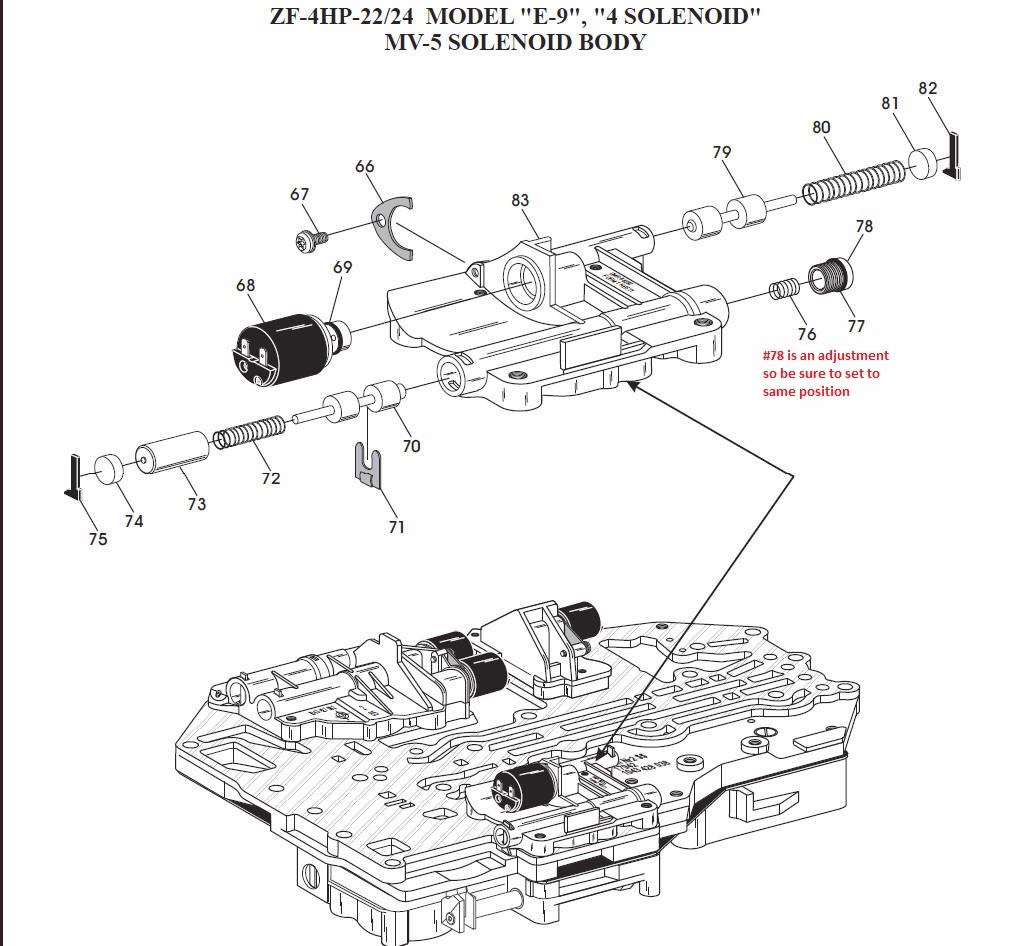 I stored the checkballs and accumulators like this. The .218" ball in my transmission measures 0.175" and looks to be standard as it is not worn so I will keep it. Also note the gauze filter at lower right which is not shown in the ATSG documentation.
Here's everything apart. The main plate (front) has been cleaned but the 2 lower sections have not yet. There is only one gasket in this valve body which I ordered from Cobra Transmissions (part# 69320EA). So far everything looks to be in very good shape with very little wear. There is quite a lot of accumulated dirt in some of the passageways but mostly in unused passageways where I doubt it will affect perfromance.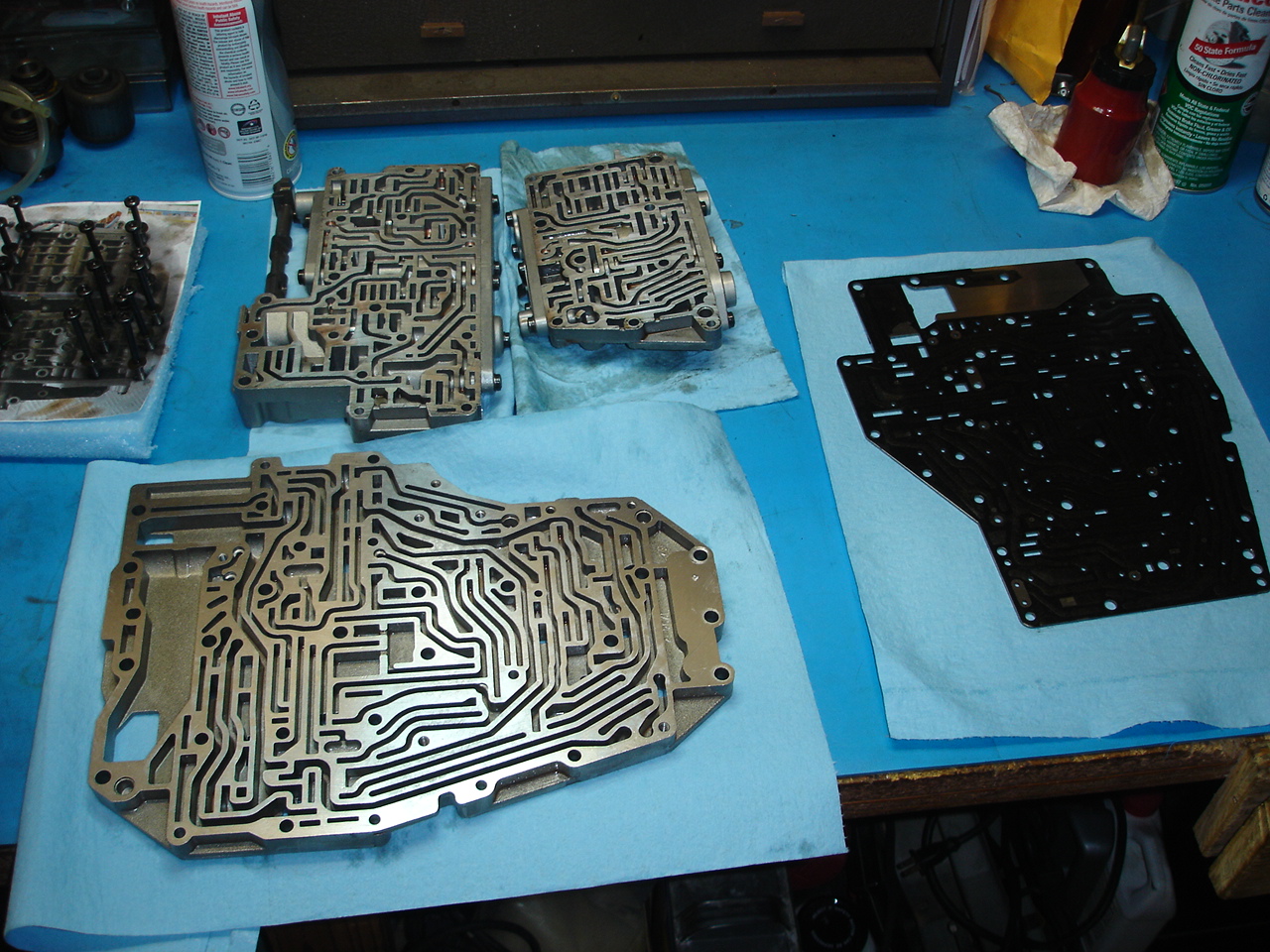 Removing the old gasket was a time consuming job. I ended up soaking the whole thing in Acetone (in a shallow container formed out of aluminum foil) for a few hours and then scraping away with a razor blade. After that I removed the residue and small spots of gasket with some wire wool. I purchased a replacement Gasket from Cobra Transmission (part # 69320EA).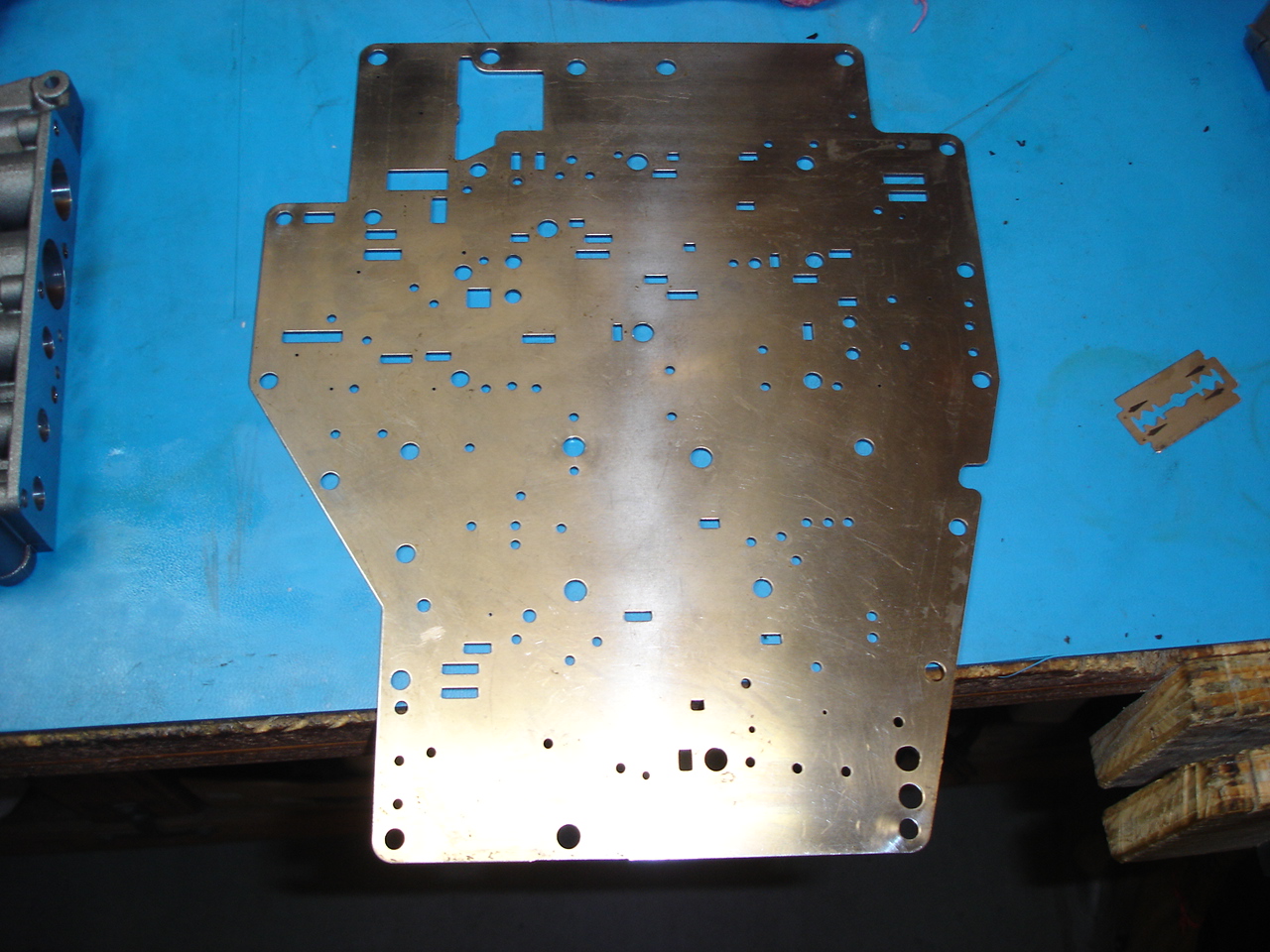 At first I thought this was wear but now I believe it is probably a manufacturing defect. This hole houses the small plastic valve and spring that sits up out of the lower rear valve body. There is no wear on the plastic part. I'm not real happy about it but the transmission has 133K miles on it and the valve body at least looks to be in excellent shape so I guess it is OK to re-use this.
Here are the internals of the lower rear valve body. Everything was meticulously cleaned with mineral spirits and then blown off with a air hose. All of the spring lengths were checked and look fine. I don't see any obvious wear on anything!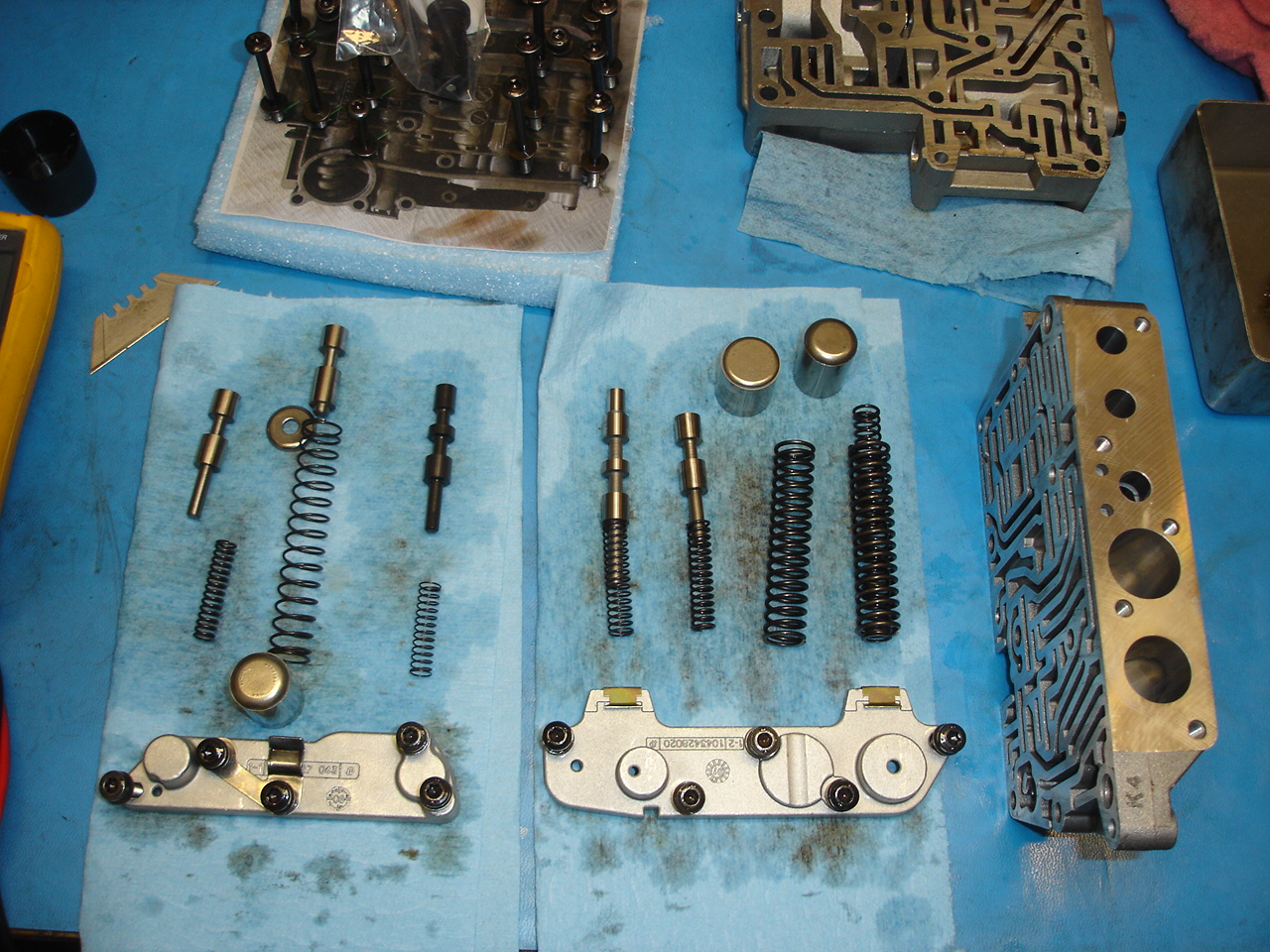 And here are the internals of the lower front valve body including a small black plastic plug that does not appear in the ATSG diagrams.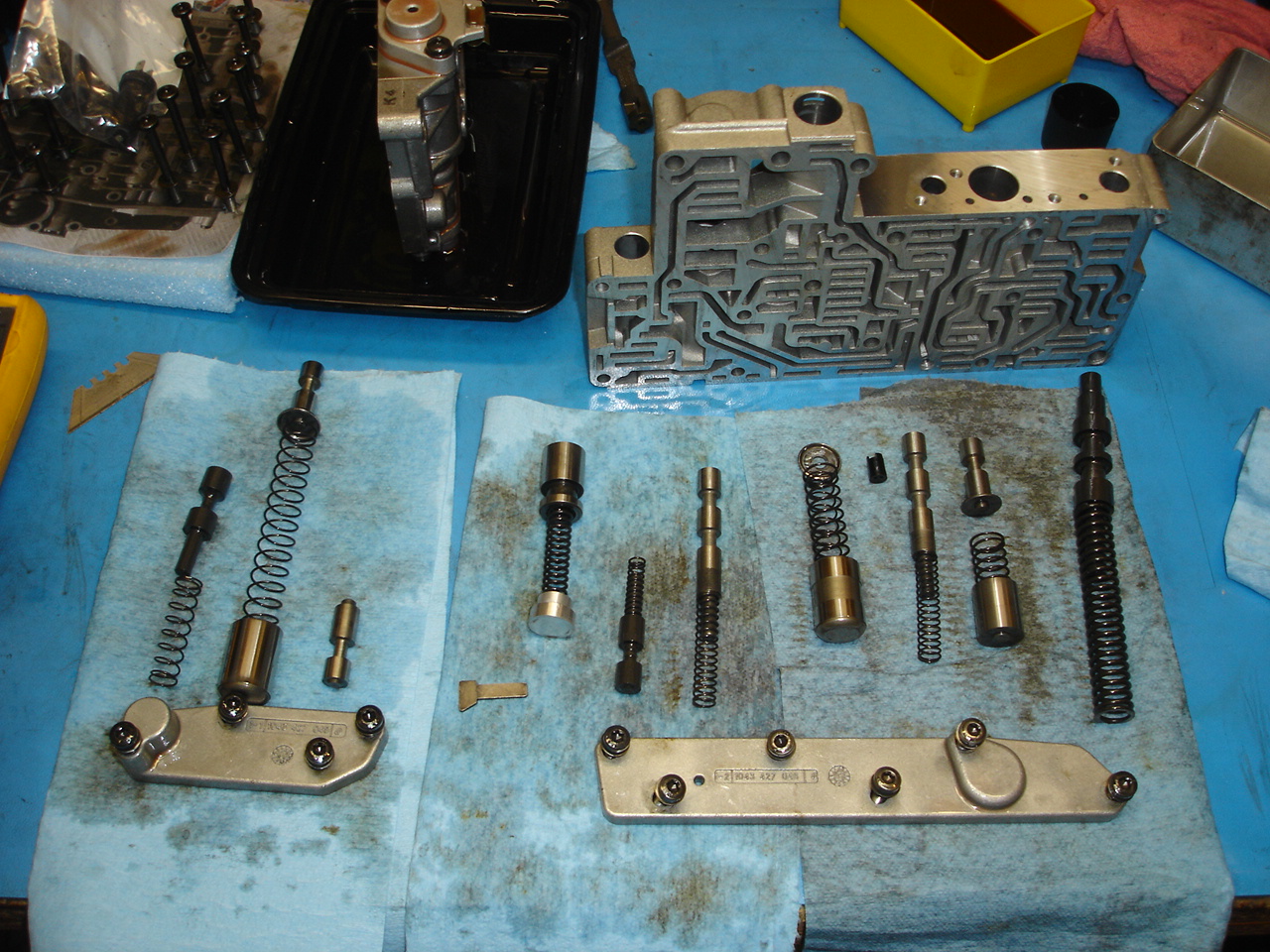 Note the position of the circled retainer. The documentation I downloaded on the web shows this 2 slots lower. Before I figured this out I could not figure out why it would not go in! Everything else agreed.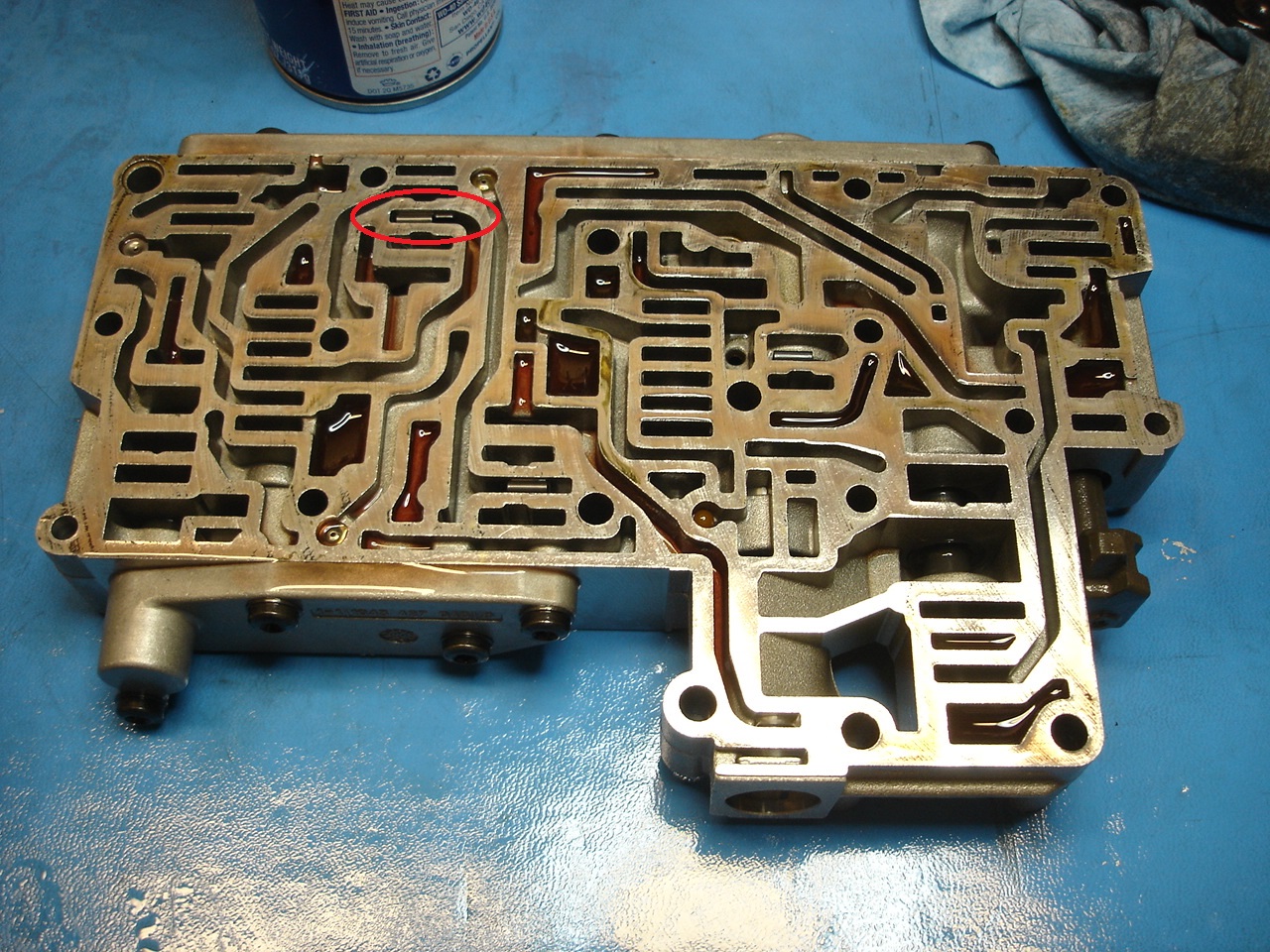 Valve body reinstallation was uneventful; I installed a new O-ring on the connector (1-1/16" x 1/16") and of course a new speed sensor. I also replaced the shifter shaft seal for the 2nd time as it had a slow leak. This time I used a dual lip seal. The seal I removed came out pretty easy and appeared to be nicked so maybe I damaged it when installing (hence the slow leak). The new seal is sealing perfectly - not a single drop in 1 week from the entire car... it's come a long a way since the day I brought it home.
At first the shifts were very rough but it turned out I was about 2 qts short on transmission fluid! I wasn't expecting it to take almost 2 gals of fluid to bring the level in dipstick range but it did. Once filled the shifts smoothed out. Now it no longer has harsh shifting when cold and overall feels a lot smoother!
--------------------------------------------------------------------------------------------------------------------------------------------------------------------------------------------------------
I often check Craigslist for BMW850's and came across someone selling off a bunch of new and used parts from a project that was never completed. It sounded like a great deal so I drove up to LA and purchased the lot.... thanks Charles!
I got a brand new set of ATE brake rotors (nice ones) and pads, a new hood liner, pair of used throttle bodies.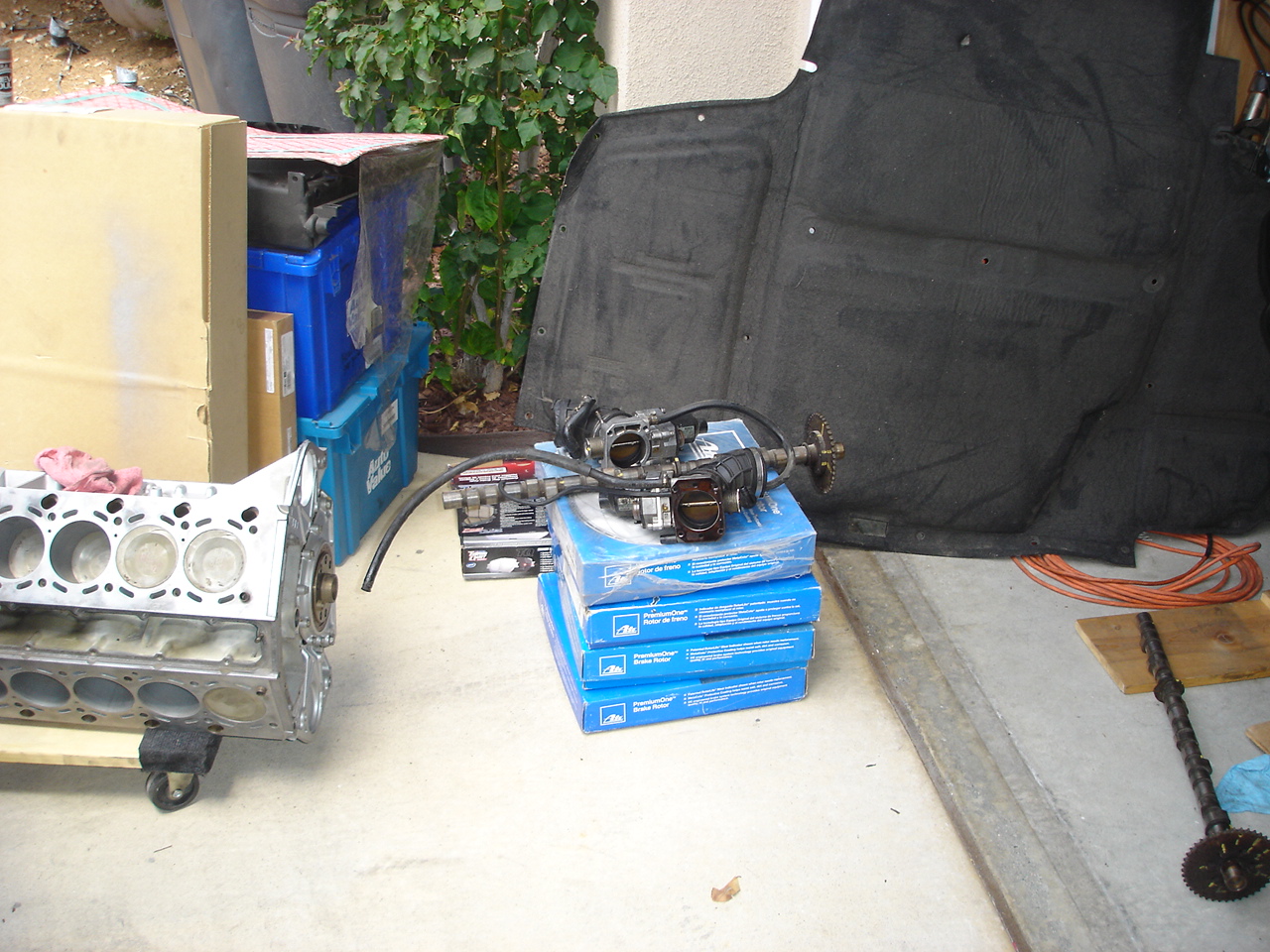 Some used Remus mufflers. A brand new behr radiator and fan. 4 boxes of misc new and used parts.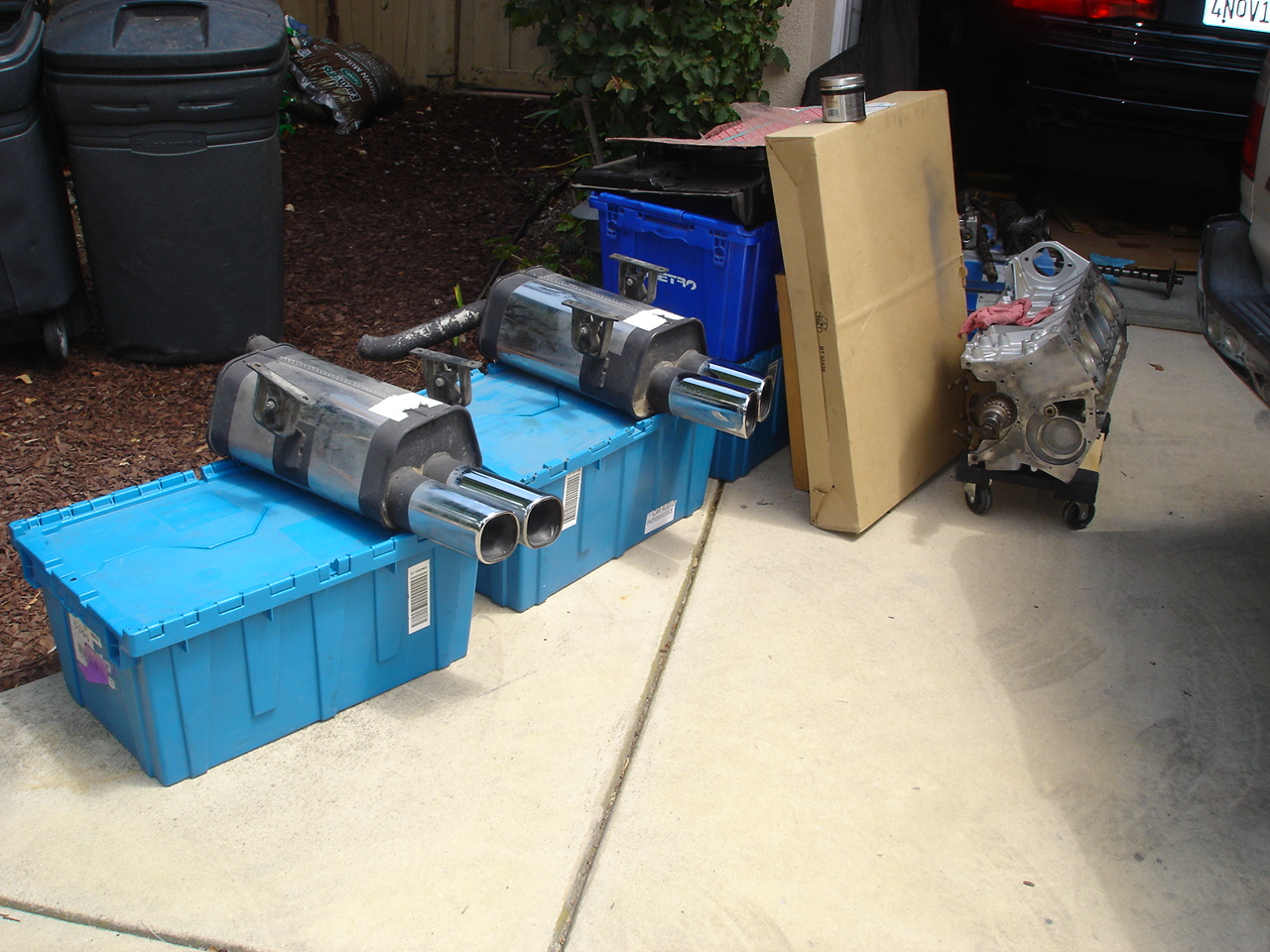 And a rebuilt short block! This has all new piston rings and lower bearings installed. Unfortunately, most of the other pieces are missing so not sure how to proceed with this yet. I have another complete motor from a wrecked car so if there is any damage to the block on it this will find a good home.
Amongst my haul of 850 parts was a used power steering pump and a couple of rebuild kits so I rebuilt this one...
Removing this retaining ring was the most difficult part of this job... eventually I was able to pry it off with a small flat screwdriver.
Here is everything after dismantling and cleaning.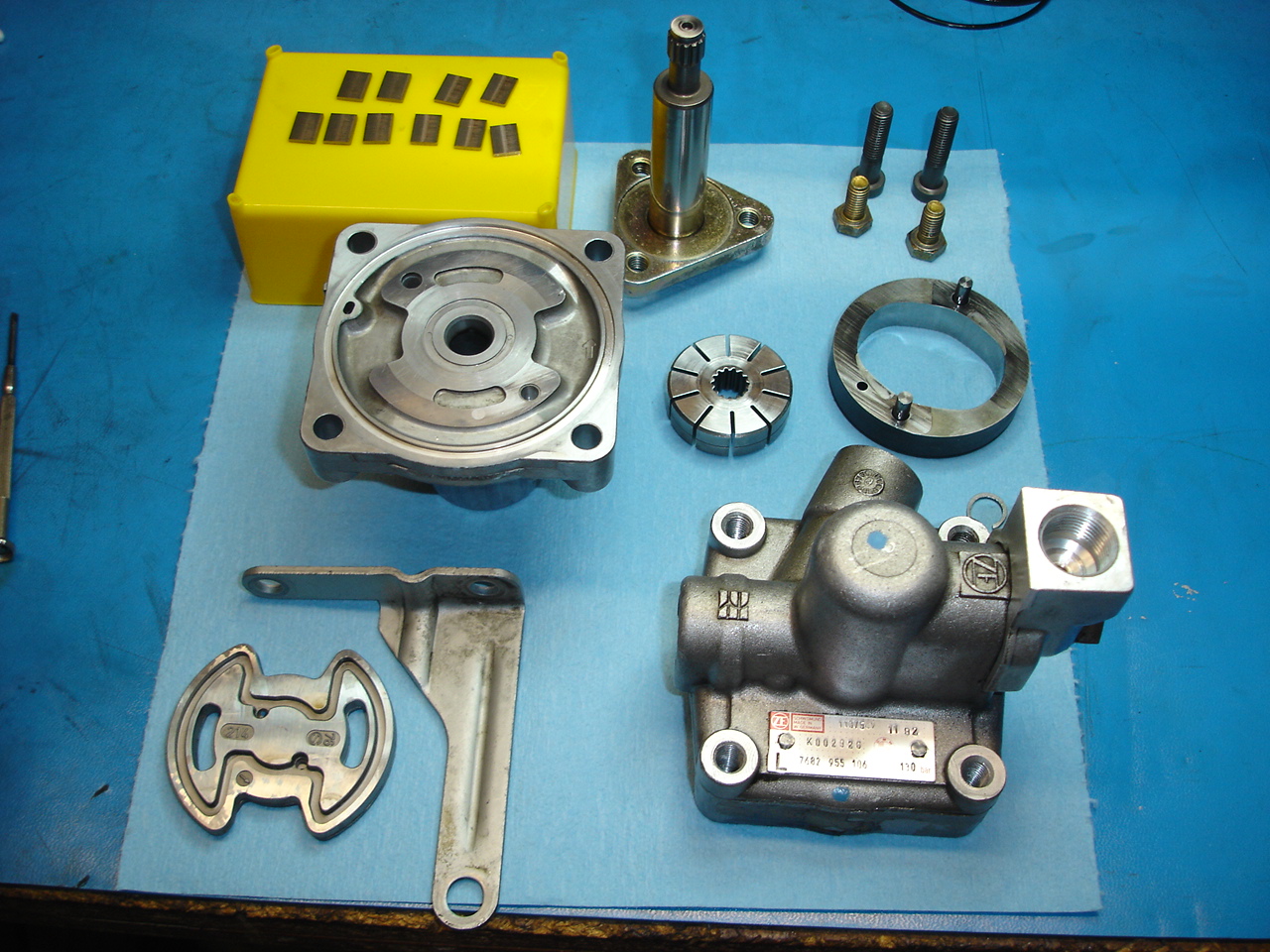 Not unexpectedly, there is a small wear ring on the shaft where it contacted the seal. It's not that bad and would probably be fine as is but by not pressing the new seal in quite as far I can move where the new seal contacts away from these wear rings. There is no measurable slop (wear) on the shaft in the bore - it is very well lubricated with a continuous stream of hydraulic oil!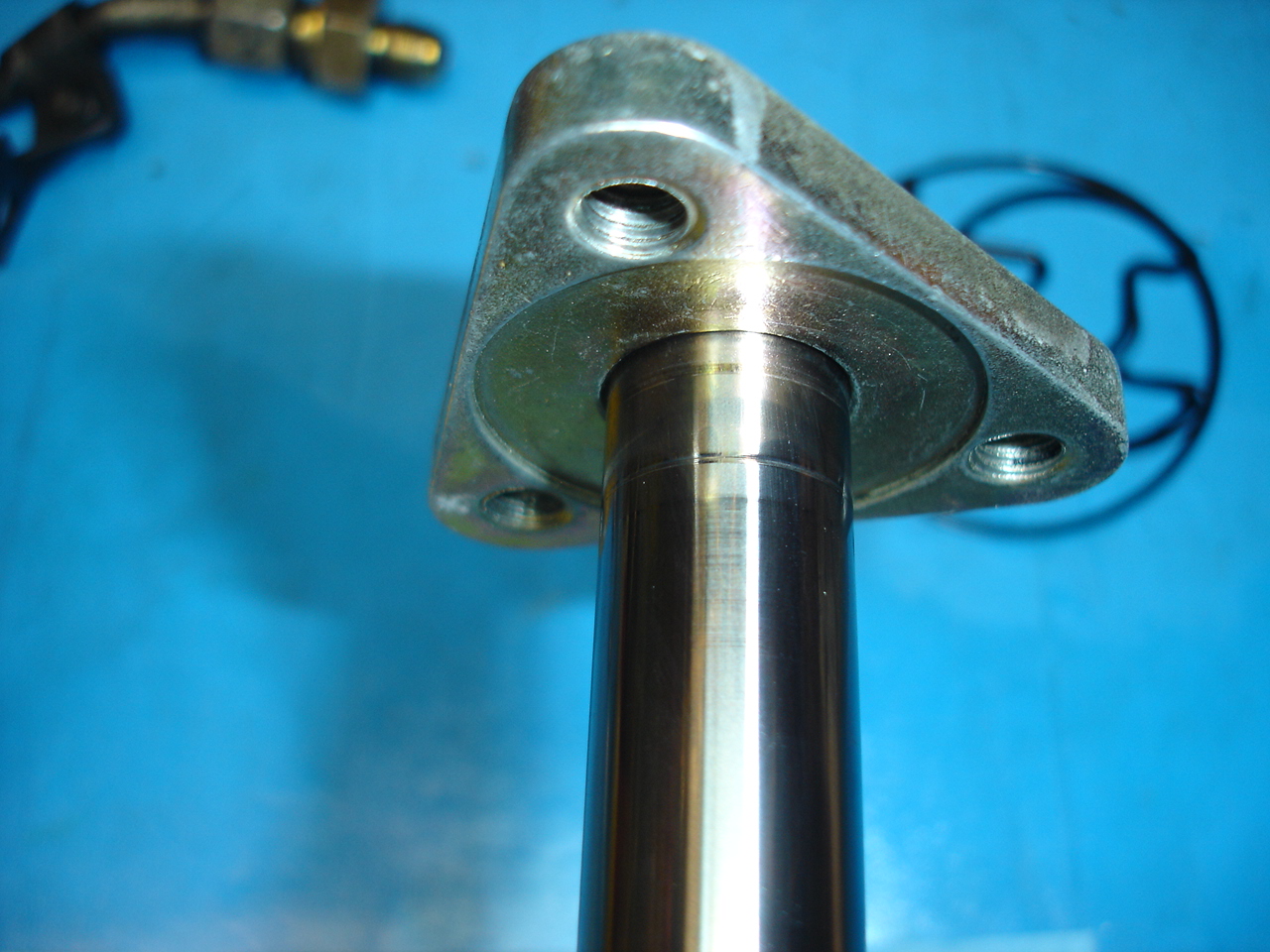 Here it is all back together and ready for installation. The case O-ring, main shaft seal and internal (dumbbell shaped) seal with similarly shaped rib and a new circlip are included in the kit along with a few other seals that were not required for this particular pump. Turning by hand it feels like a brand new part!