2006 BMW 760i V12
I recently purchased this 2006 BMW 760i for $5,000. This is a short wheel base 12 cylinder car and quite rare as only 50 were sold in North America in 2006!
As best I can tell, the car spent most of its life in San Diego and Las Vegas. There is no sign of any significant accidents, it has a clean title, fresh smog and 139K mi.
The car has a few minor scrapes (you can see the one on the front left side below) which will give me an opportunity to work on my painting skills. There's a long list of issues in need of repair... most were disclosed but a few I found out later.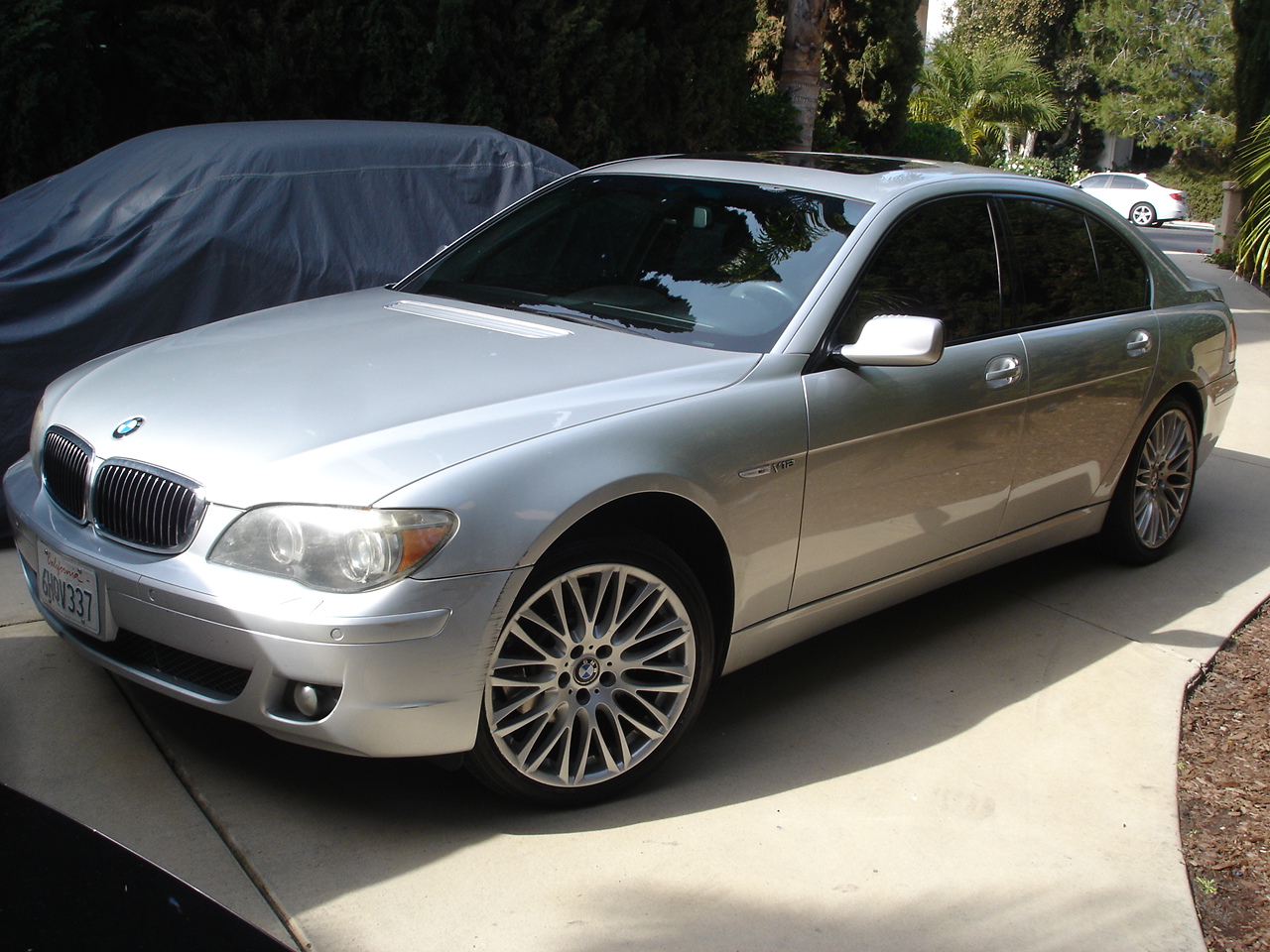 A little scrape on the rear bumper.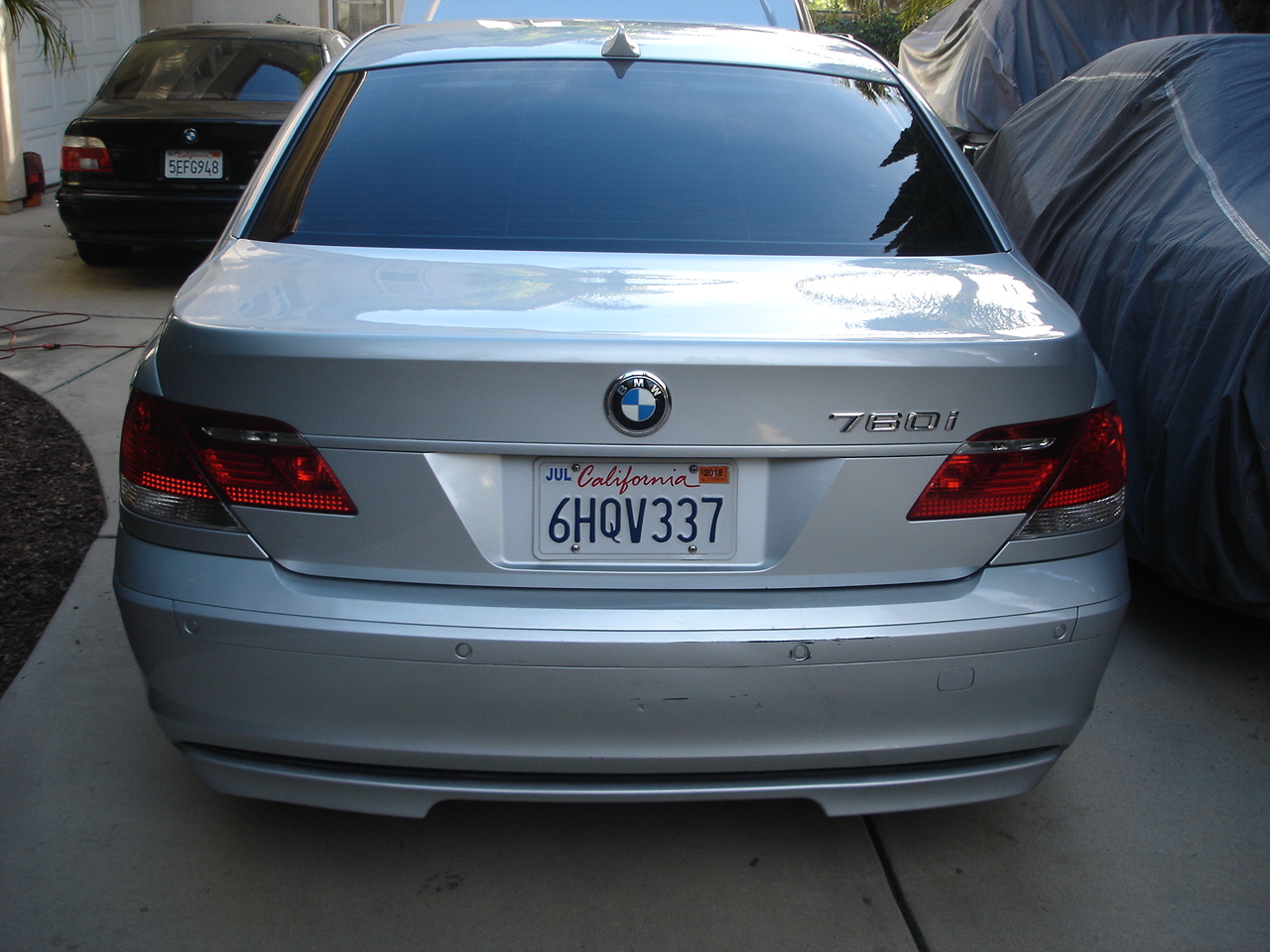 The engine bay needs cleaning. Both high pressure fuel pumps and associated hoses have been replaced. The sender unit on the fuel tank was also replaced.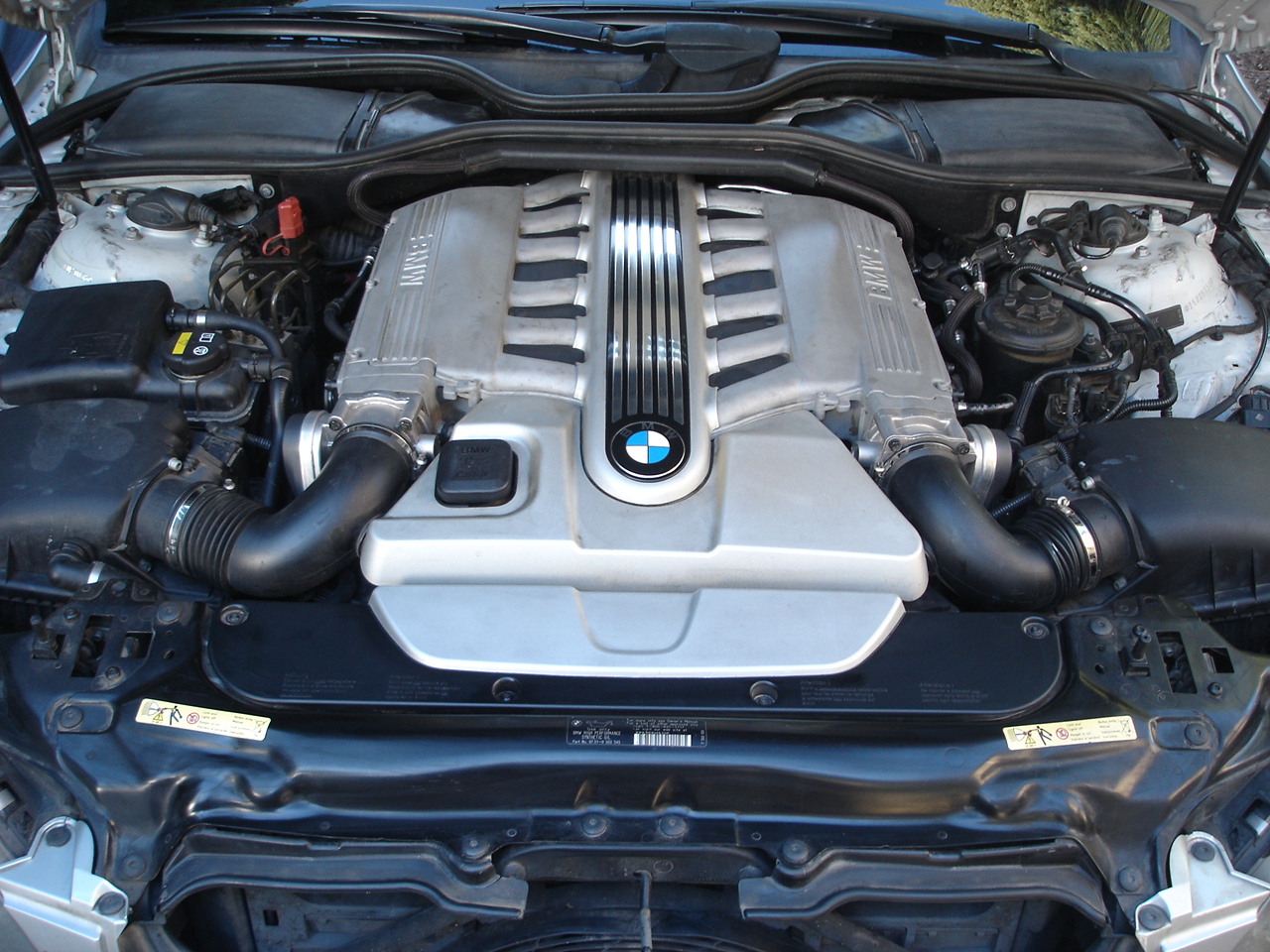 The interior is in nice shape with minimal wear on the leather.
Here's is the build sheet for this car:
========================================
Vehicle information
========================================
VIN: WBAHL03516DE70038
Type code: HL03
Model: 760I (USA)
E-F-R series: E65
Series: 7
Type: LIM
Steering: LL
Doors: 4
Engine: N73
Displacement: 6.00
Power: 327 (444 hp)
Drive: HECK
Transmission: AUTO
Paint code: 354 - TITANSILBER METALLIC
Upholstery code: U6SW - LEDER NASCA SCHW
Prod.date: 2005-07-06
S1CA SELECTION COP RELEVANT VEHICLES
S2EA BMW LA wheel Y-spoke 149
S2VA Chassis suspens. setup"Adaptive Drive"
S8SP Control unit COP
S9AA Outer skin protection
S212 Equipment, brake syst. country-specific
S220 Self-leveling suspension
S252 Active knee protection, driver/passenger
S255 Sports leather steering wheel
S302 Alarm system
S316 automatic trunk lid mechanism
S319 Integrated universal remote control
S323 Soft-Close-Automatic doors
S358 Climate comfort windscreen
S403 Glass roof, electrical
S415 Sun-blind, rear
S416 Roller sun visor, rear lateral
S423 Floor mats, velours
S430 Interior/outside mirror with auto dip
S431 Interior rear-view mirror with auto dip
S438 Fine wood trim
S441 Smoker package
S442 Drink holder
S451 Active seat for driver
S453 Climatised front seats
S456 Comfort seat with memory
S459 El. front seat adjustment w. memory
S470 Isofix-System
S488 Lumbar support, driver and passenger
S494 Seat heating driver/passenger
S496 Seat heating, rear
S508 Park Distance Control (PDC)
S521 Rain sensor
S524 Adaptive Headlights
S534 Automatic air conditioning
S609 Navigation system, Professional
S620 Voice control
S645 BMW US Radio
S655 Satellite tuner
S672 CD changer for 6 CDs
S677 HiFi system Professional DSP
S691 CD holder
S697 Area-Code 1 for DVD
S760 High gloss shadow line
S776 Headlining, Alcantara
S845 Acoustic fasten seat belt reminder
S850 Additional Export tank filling
S853 Language version, English
S925 Dispatch protection pack
S992 Control of number-plate attachment
It has a full size spare in the trunk.
This was a bit of an impulse buy and I probably should have checked it out a bit more carefully. It has a long list of things that need fixing but most of these are very common for this car and a wealth of DIY info can be found on the web. Despite the paint work needing some repairs, other parts of this car's paint look to be in excellent condition. The rubber door and window seals all look to be in good shape with the exception of the lower gutter at the bottom of the rear window which is starting to rot (BMW uses very poor quality plastic and rubber).
My goal for this car is to keep the spend to a minimum. I plan to do all the repairs myself (even the paint!).
Issues to be addressed:
Left passenger door sun shades inop (right side and rear are OK). FIXED.

Paint repair needed, front left side, rear bumber, rear right pillar, front right fender (looks like an acid spill).

Steering wheel tilt inop (in-out works fine). A common problem and hopefully resolved with a bit of grease.

Strong smell of coolant in the engine bay.

Valve covers covered in oil. Also a small leak noticeable underneath but I've not crawled underneath it yet.

Some minor curb rash on wheels

Parking brake inop

ASC inop.

Front left wheel missing one wheel lug

Engine hood liner looks burnt in places and will need replacing

Driver seat front extension inop

Occasional hiccup from the transmission.

Headlight lenses need to be replaced or refinished (seller advised he refinished them once but did not last).

Small fluid leak -
I knew about everything above when I purchased the car but there were a few surprises I did not know about (and i'm sure more will follow).
1. Right rear air shock leaks (bleeds down within an hour or so of shutting off the car). Car has its original 20" wheels which are in pretty decent shape (minor curb rash).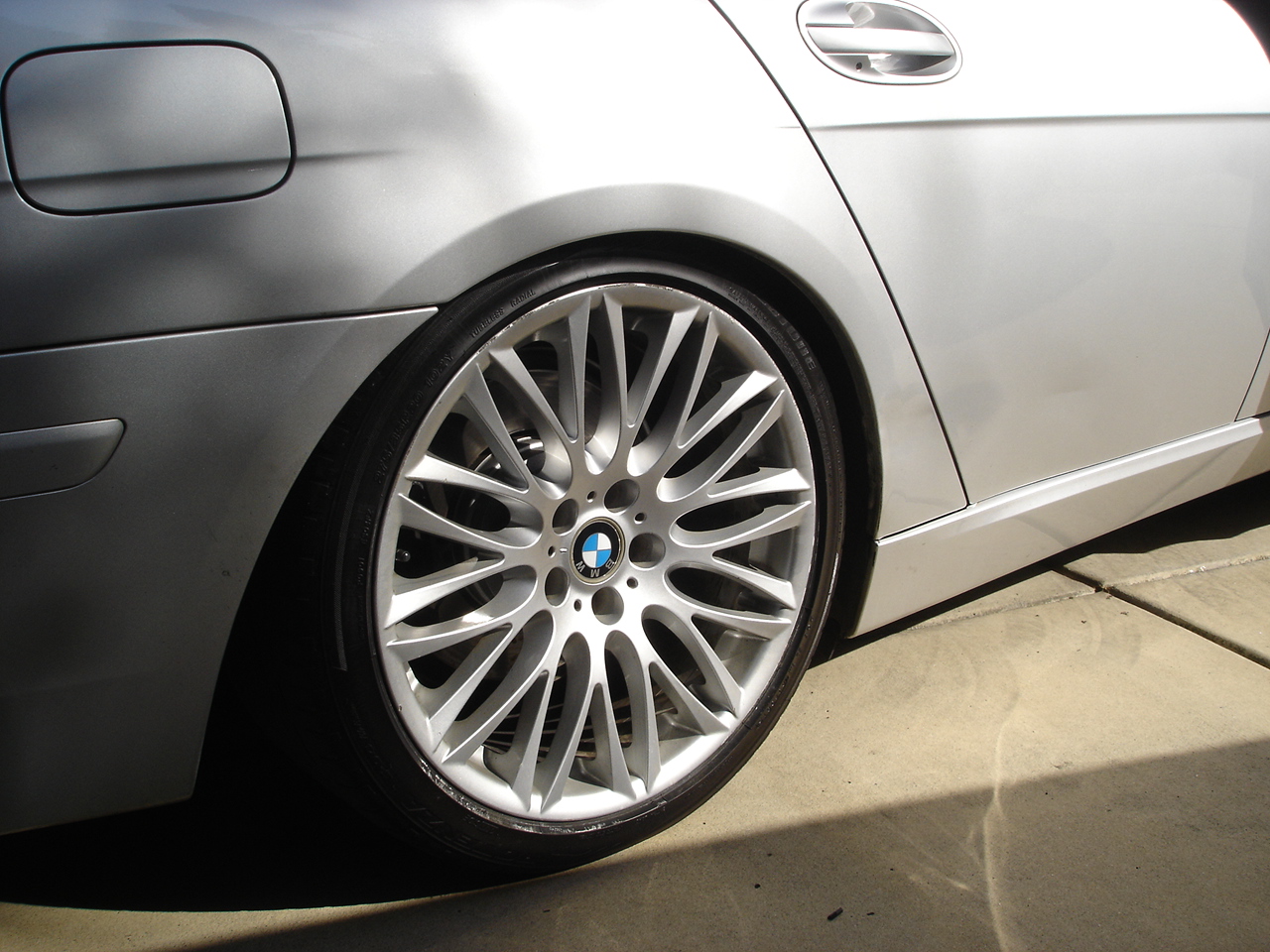 2. Signs of a battery connection problem!
The plastic cover that sits above the battery has melted (above the +ve terminal)! I don't see any damage at the battery/wiring so hopefully this was already corrected. This was most likely caused by a loose connection.
3. Will need a tune-up. I plan to clean intakes, replace plugs and fluids. Possibly have the GDI injectors cleaned.
Parts purchased
| | |
| --- | --- |
| 2 x Rear tires 275/35ZR20 Falken FP8000 | $219 |
| Slime tube repair (for air shock) Ebay | $7.15 |
| Rear brake pads Wagner MX919 Ebay | $26.95 |
| Gear for parking brake. Ebay | $19.49 |
| | |
| | |
| | |
| | |
| | |
| | |
Parts needed
51417025647 Plastic cap for screw in drivers door card ($8.70 ea ECS)
07119904304 Screw for trunk tie down eyelett $2.32 ECS
51717033257 Rear window rain gutter $30.58 (at ECS tuning)
26117518443 Guibo RME $81.58
51717030707 deflector front of rear wheel $19.88 (ECS tuning)
51717030708 deflector front of rear wheel $19.88 (ECS tuning)
Rear rotors
Front rotors
Front brake pads
Paint (body)
Paint (wheels)
Clearcoat
Link to Page 2 (Repairs)