2006 BMW 760i V12
I recently purchased this 2006 BMW 760i for $5,000. This is a short wheel base 12 cylinder car and quite rare as only 50 were sold in North America in 2006!
As best I can tell, the car spent its first few years in Las Vegas and then San Diego. There is no sign of any significant accidents, it has a clean title, fresh smog and 139K mi.
The car has a few minor scrapes (you can see the one on the front left side below) which will give me an opportunity to work on my painting skills. There's a long list of issues in need of repair... most were disclosed and a few more I found later.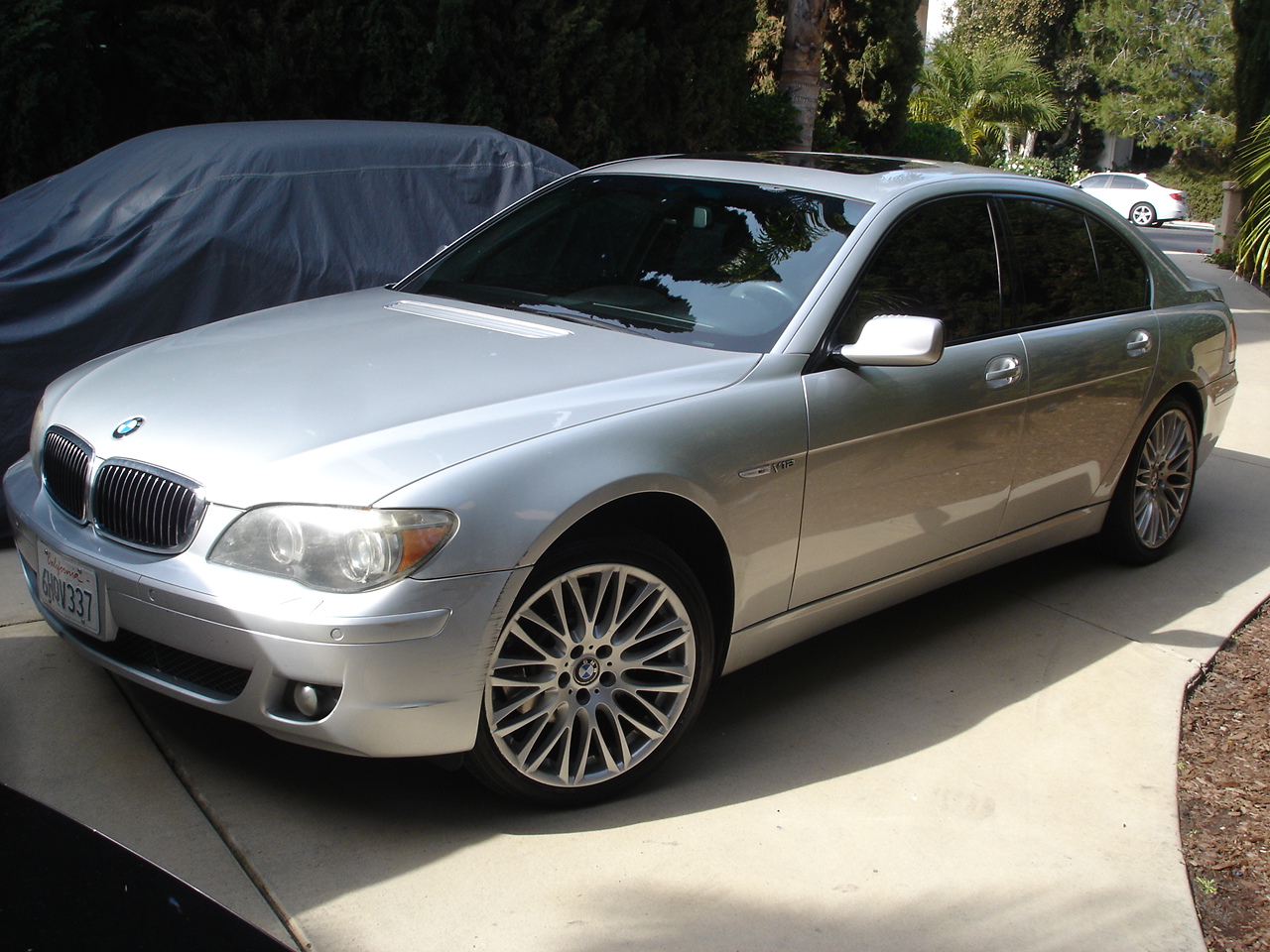 A little scrape on the rear bumper.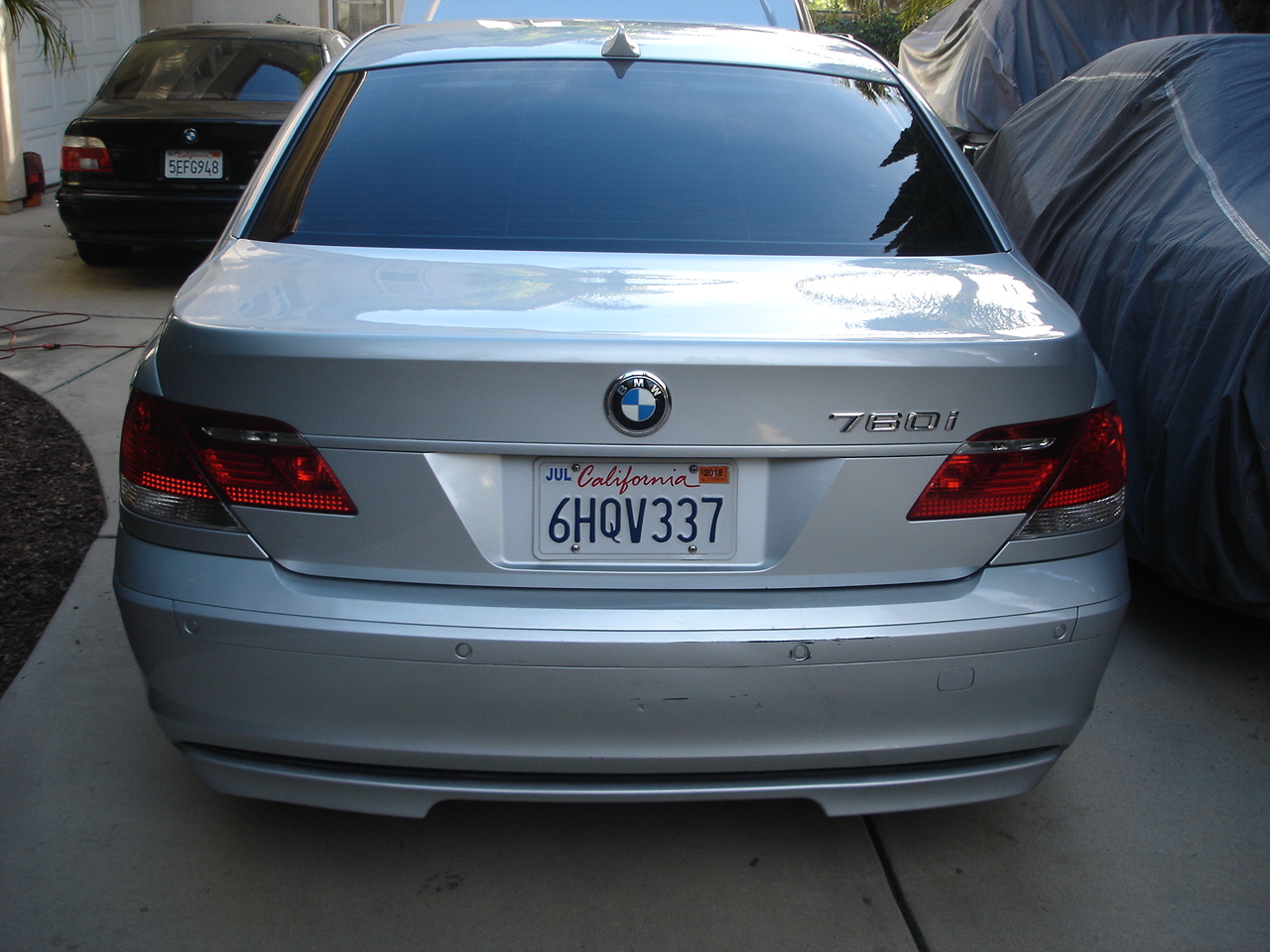 The engine bay needs cleaning. Both high pressure fuel pumps and associated hoses have been replaced. I was told the sender unit on the fuel tank has also been replaced.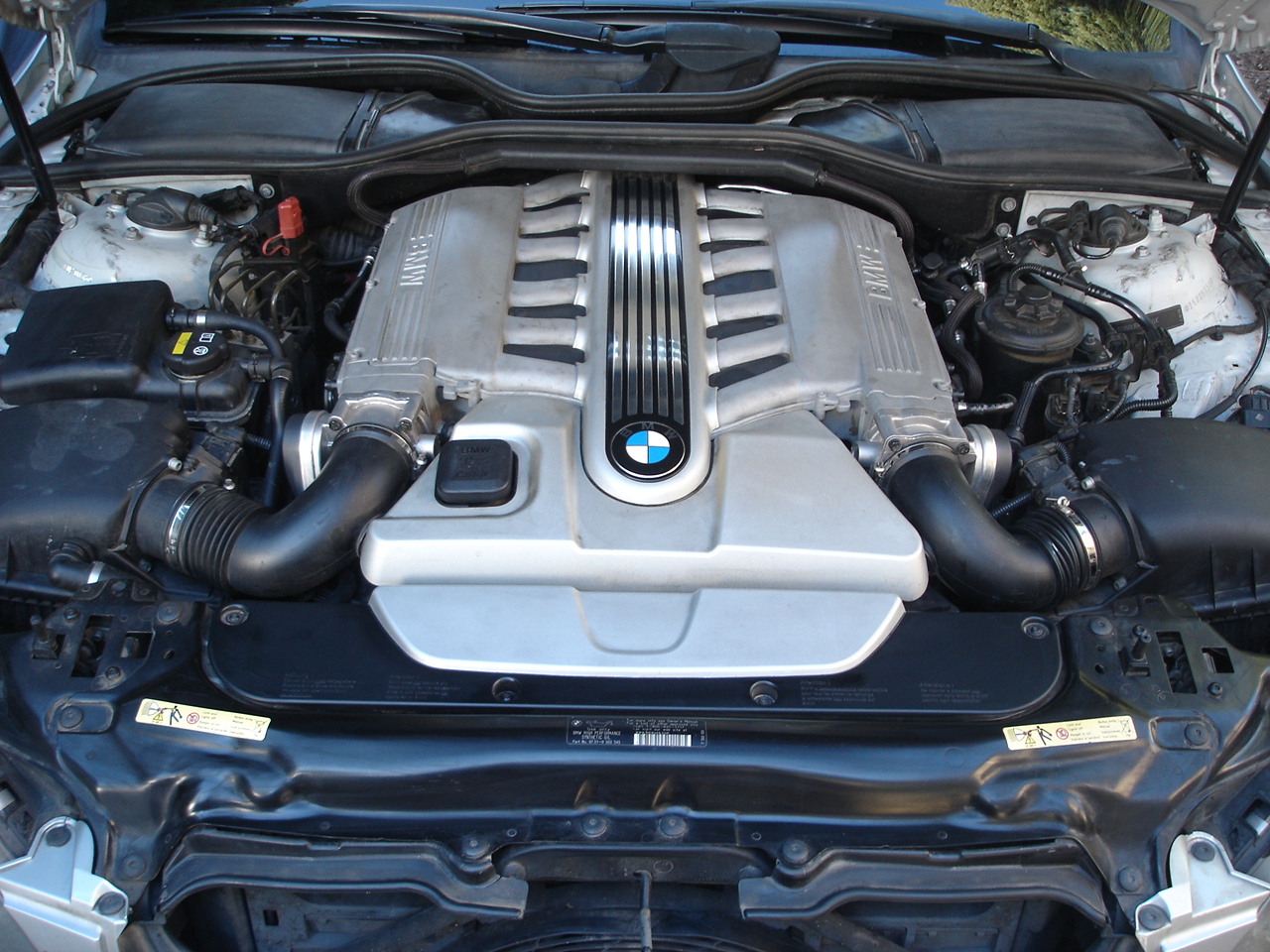 The interior is in pretty nice shape with minimal wear on the leather.
The CD Changer has been removed and replaced with a cable in the glove box for an IPOD. I found an old IPOD in the house which required a simple repair and it works great!
Here's is the build sheet for this car:
========================================
Vehicle information
========================================
VIN: WBAHL03516DE70038
Type code: HL03
Model: 760I (USA)
E-F-R series: E65
Series: 7
Type: LIM
Steering: LL
Doors: 4
Engine: N73
Displacement: 6.00
Power: 327 (444 hp)
Drive: HECK
Transmission: AUTO
Paint code: 354 - TITANSILBER METALLIC
Upholstery code: U6SW - LEDER NASCA SCHW
Prod.date: 2005-07-06
S1CA SELECTION COP RELEVANT VEHICLES
S2EA BMW LA wheel Y-spoke 149
S2VA Chassis suspens. setup"Adaptive Drive"
S8SP Control unit COP
S9AA Outer skin protection
S212 Equipment, brake syst. country-specific
S220 Self-leveling suspension
S252 Active knee protection, driver/passenger
S255 Sports leather steering wheel
S302 Alarm system
S316 automatic trunk lid mechanism
S319 Integrated universal remote control
S323 Soft-Close-Automatic doors
S358 Climate comfort windscreen
S403 Glass roof, electrical
S415 Sun-blind, rear
S416 Roller sun visor, rear lateral
S423 Floor mats, velours
S430 Interior/outside mirror with auto dip
S431 Interior rear-view mirror with auto dip
S438 Fine wood trim
S441 Smoker package
S442 Drink holder
S451 Active seat for driver
S453 Climatised front seats
S456 Comfort seat with memory
S459 El. front seat adjustment w. memory
S470 Isofix-System
S488 Lumbar support, driver and passenger
S494 Seat heating driver/passenger
S496 Seat heating, rear
S508 Park Distance Control (PDC)
S521 Rain sensor
S524 Adaptive Headlights
S534 Automatic air conditioning
S609 Navigation system, Professional
S620 Voice control
S645 BMW US Radio
S655 Satellite tuner
S672 CD changer for 6 CDs
S677 HiFi system Professional DSP
S691 CD holder
S697 Area-Code 1 for DVD
S760 High gloss shadow line
S776 Headlining, Alcantara
S845 Acoustic fasten seat belt reminder
S850 Additional Export tank filling
S853 Language version, English
S925 Dispatch protection pack
S992 Control of number-plate attachment
The car has its original 20" (staggered) wheels which are in decent shape (some minor curb rash) and there's a matching full size spare in the trunk.
This was a bit of an impulse buy, had I checked it out more carefully I doubt I would have paid $5K for it! It has a long list of things that need fixing but most are very common for this car and a wealth of DIY info can be found on the web. The paint work needs repairs in a few places but other parts of this car's paint look to be in excellent condition. The rubber door and window seals all look to be in good shape with the exception of the lower gutter at the bottom of the rear window which is starting to rot (BMW uses very poor quality plastic and rubber).
My goal for this car is to keep the spend to a minimum and I will ofcourse do all the repairs myself (even the paint!).
I used INPA to read out the errors and DIS to check the battery registration and charge profile. Below is a summary of the car errors at time of purchase and after fixing a few things (2/25/18).
E R R O R M E M O R Y
Date: 18.02.2018 15:54:45
Model: E65
Scope: all control module JobStatus: OKAY
Quantity: 54
`
ADR Gen. name JobStatus
1B VVT ERROR_ECU_SERVICE_NOT_SUPPORTED
1E VVT2 ERROR_ECU_SERVICE_NOT_SUPPORTED
At time of purchase
2/25/18
Likely cause
ADR
Name
Status
Number of errors
00
ZGM
Central gateway module
OK
No Error stored
0 errors
01
SIM/SGM
Safety information
OK
1 Error stored
93FC 20
0 errors
02
SZL
Steering switch center
OK
1 Error stored
94E7 20
0 errors
Dirty contacts in steering angle sliders?
03
SASL
Satellite A-pillar left
OK
No Error stored
0 errors
04
SASR
Satellite A-pillar right
OK
No Error stored
0 errors
06
STVL/TEFA
Satellite front left
OK
No Error stored
0 errors
06
STVR/TEBF
Satellite front right
OK
No Error stored
0 errors
07
SSFA
Lear satellite seat driver
OK
No Error stored
0 errors
08
SSBF
Lear satellite seat passenger
OK
No Error stored
0 errors
09
SBSL
Satellite B-pillar left
OK
No Error stored
0 errors
0A
SBSR
Satellite B-pillar right
OK
No Error stored
0 errors
0D
SSH
Seat satellite rear
OK
No Error stored
0 errors
0E
SFZ
Satellite receiver
OK
No Error stored
0 errors
12
DME/DDE
Digital motor electronics
OK
3 Errors stored
27F4 04
274E 81
274A 81
0 errors
13
DME/DDE
Digital motor electronics
OK
2 Errors stored
274E 81
2749 81
0 errors
18
EGS
Electronic transmission control
OK
1 Errors stored
CF24 24
0 errors
23
ARS
Anti-roll stabilization
OK
No Error stored
0 errors
29
DSC
Dynamic stability control
OK
4 Errors stored
5F12 A0
5EF4 A0
5EE4 E0
5EAB A0
5EE4 E0
Faulty ABS module. This error is usually caused by bad FET or bond wire driving pre-charge pump.
2A
EMF
Electro-mech parking brake
OK
8 Errors stored
6030 F4
D3BD A8
D3BE A4
6043 A2
6040 A1
6044 A1
6045 A8
6046 A2
0 errors
All cleared after installing new gear.
35
SVS
Speech processing system
OK
No Error stored
0 errors
36
TEL
Telephone
OK
No Error stored
0 errors
37
AMP
Radio amplifier
OK
No Error stored
0 errors
38
EHC
Electronic height control
OK
No Error stored
0 errors
39
EDC
Electronic damping control
OK
1 Error stored
5FF7 34
0 errors
3B
NAV
Navigation
OK
No Error stored
0 errors
3C
CDC
CD changer
OK
No Error stored
0 errors
3F
ASK
Audio system controller
OK
2 Error stored
A189 20
D8D1 20
A189 20
Unknown. Perhaps because CD changer replaced with IPOD?
40
CAS
Car access system
OK
1 Error stored
A0B5 24
0 errors
41
DWA
Theft dterrent
OK
No Error stored
0 errors
42
CIM
Chassis integration module
OK
1 Error stored
5D36 64
0 errors
Hall sensor
43
POW
Hella power module (regulator?)
OK
4 Error stored
A148 24
A163 21
A158 21 high voltage error?
A161 21
0 errors

Recharge battery?
Battery is weak and will need to be replaced.

Car is presently coded for 90AH AGM battery but looks like

a regular lead acid fitted. Only one registered battery change in the history!

44
SHD
Sun roof
OK
No Error stored
0 errors
45
RLS
Rain light sensor
OK
No Error stored
0 errors
46
WIM
Bosch wiper module
OK
No Error stored
0 errors
47
ANTTU
VDO antenna tuner
OK
No Error stored
0 errors
4C
TMFT
Door module
OK
No Error stored
0 errors
4D
TMBT
Door module
OK
No Error stored
0 errors
4E
TMFTH
Door module
OK
No Error stored
0 errors
4F
TMBTH
Door module
OK
No Error stored
0 errors
50
SINE
Alarm Siren
OK
1 Error stored
9D12 11
0 errors
Siren has a built in rechargeable battery that most likely needs replacing.
54
RADIO
Radio
OK
1 Error stored
DE11 20
0 errors
60
KOMBI
Instrument cluster
OK
4 Error stored
9319 24
A3BA 20
A3C7 20
E111 20
0 errors
62
MOSTGW
Becker Most gateway
OK
No Error stored
0 errors
63
MMI/CCC
Becker GUI (LCD?)
OK
No Error stored
0 errors
64
PDC
Park Distance Control
OK
No Error stored
0 errors
65
BZM/SZM
Center console
OK
No Error stored
0 errors
67
EC
Alps central control unit
OK
No Error stored
0 errors
6B
HKL
Hydraulic trunk lift
OK
No Error stored
0 errors
6D
FAS
Driver Temoic seat module
OK
No Error stored
0 errors
6E
BFS
Passenger Temic seat module
OK
No Error stored
0 errors
70
LM
Light module
OK
1 Error stored
E514 24
0 errors
78
KLIMA
Climate control
OK
1 Error stored
9C76 64
9C76 64
Coolant re-circulation pump
Issues to be addressed:
Left passenger door sun shade is jammed (right side and rear are OK). FIXED.

Paint repair needed, front left side bumper, rear bumper, rear right pillar, front right fender (looks like an acid spill). Front of hood also has a lot of paint chips. The paintwork on the rest of the car looks pretty good.

Steering wheel tilt inop (stuck high). FIXED.

Strong smell of coolant in the engine bay.

Valve covers are covered in oil. Also a slow drip underneath but I've not crawled under to look at it yet. After the car sat a few weeks I drove to the gas station and whilst filling up was told there's smoke coming out of my car! I quickly popped the hood expecting an electrical issue but it was just oil burning off the exhaust manifold - oil is leaking onto exhaust manifold from valve covers.

Some minor curb rash on wheels

Parking brake inop. FIXED

ASC inop. ABS module needs repair and has been sent out for repair, now FIXED.

Front left wheel missing one wheel lug. Purchased a replacement ($2) FIXED

Engine hood liner appears burnt in places and will need replacing

Occasional hiccup from the transmission during test drive. No sign of this on the drive home and occasional drive around my neighborhood. Also no transmission errors.

Headlight lenses need to be replaced or refinished (seller advised he refinished them once but did not last).

Driver and passenger thigh support extension not working (passenger did work). Common problem - plastic gears! Fix underway
I knew about everything above when I purchased this car but there were more issues found later (and i'm sure more will follow).
1. Right rear air shock leaks (bleeds down within an hour or so of shutting off the car). I was a bit surprised that this was not disclosed.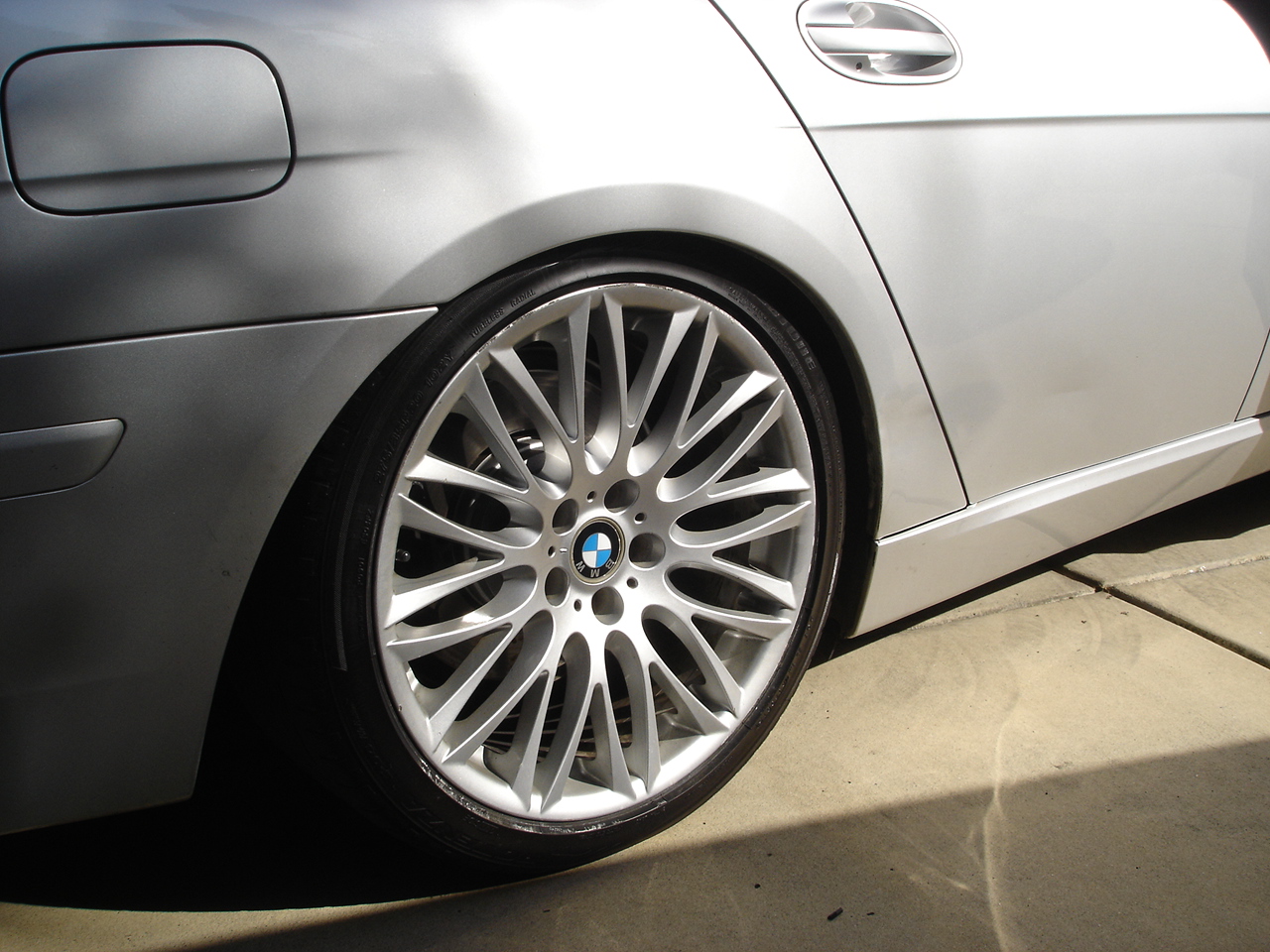 2. Signs of a battery connection problem!
The plastic cover that sits above the battery has melted (above the +ve terminal)! I don't see any damage at the battery/wiring so appears this was already corrected and most likely caused by a loose connection.

The car is coded for an AGM battery (I checked with DIS) but it is fitted with a regular lead acid battery! The car needs re-coding so the battery will charge correctly.
3. This one I expected.... Engine needs a top end rebuild (plugs. gaskets, hoses). After sitting a few weeks I drove down the street to get some gas and while filling her up a bystander advised there's smoke coming from your car! I quickly popped the hood expecting an electrical issue but it was just oil burning off the exhaust manifold. The valve cover gaskets are leaking. Some of the plugs may be drowning in oil too and the cause of an occasional stutter when cold.
Parts purchased so far
I usually look for great deals on parts and will buy in advance of needing them if the price is right! Ebay, RMeuropean and ECS are where I buy most things.
| | |
| --- | --- |
| 2 x Rear tires 275/35ZR20 Falken FP8000 Ebay | 219 |
| | |
| Slime tube repair (for rear air shock) Ebay | 7.15 |
| Metal gear for parking brake. Ebay | 19.49 |
| Thigh Support Actuator Repair Metal Gear (2 pcs). Refund requested as these did not fit/work | Refunded |
| Nylon gears for thigh support w/expedited shipping from Turkey! | 36 |
| | |
| 2 x ATE SP30118 Front rotors (Ebay) 128.45 - 20%coupon These things are massive! | 102.4 |
| Front brake pads Wagner MX918 Ebay 29.65 -20% coupon | 23.72 |
| Rear brake pads Wagner MX919 Ebay | 26.95 |
| | |
| Bosch ABS module (brand new) Ebay (Great deal! I will re-sell this if unable to fix my original part) BMW part # 34522284921 | 219 |
| ABS repair service | 95 |
| 2 x Mahale LX1216 air filters (RM European) | 36.56 |
| 1 eng oil filter | 7.16 |
| 1 x wheel lug bolt | 2 |
| 2L hydraulic fluid CHF11S | 21.24 |
| | |
| Total | 815.67 |
Parts needed
51417025647 Plastic cap for screw in drivers door card ($8.70 ea ECS)
07119904304 Screw for trunk tie down eyelett $2.32 (ECS)
51717033257 Rear window rain gutter $30.58 (ECS tuning)
51717030707 deflector front of rear wheel $19.88 (ECS tuning)
51717030708 deflector front of rear wheel $19.88 (ECS tuning)
54128169710 Sunroof seal
?? Bracket for hood switch
New Battery ~ $150
Gaskets/hoses for top end refurb $$!
Spark plugs (x12)
Coolant recirculation pump
26117518443 Guibo RME $81.58
Rear rotors
Paint (body)
Paint (wheels)
Clearcoat
Link to Page 2 (Repairs)